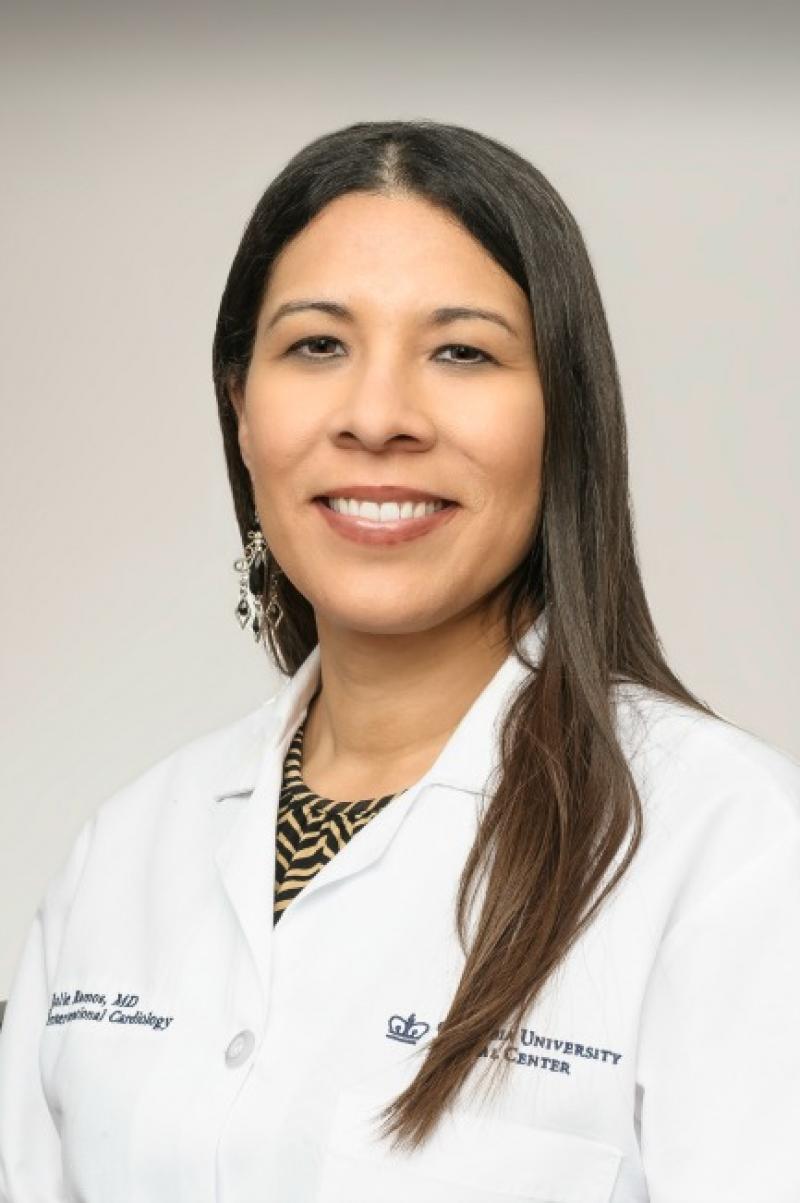 Overview
Dr. Ramos has been practicing invasive cardiology in New York City since 2011. She was previously the Division Head of Outreach Cardiology at Montefiore Medical Center. She has a Bachelors and a Masters Degree in Nutritional Sciences and received her Doctor of Medicine from New Jersey Medical School and trained in cardiology at Emory University. Dr. Ramos practices invasive cardiology and is board certified in internal medicine, cardiovascular medicine, and nuclear cardiology. Dr. Ramos is bilingual in both Spanish and English.
Academic Appointments
Assistant Professor of Medicine
Credentials & Experience
Education & Training
MD, University of Medicine and Dentistry of New Jersey
Internship: Memorial Sloan-Kettering Cancer Center
Residency: NewYork-Presbyterian Hospital/Weill Cornell Medical Center
Fellowship: Emory University Affiliated Hospitals
Research
Selected Publications
Hoskins M, Ramos JJ, Sola S, Pohlel K, El-Chami M, Helmy T, Patel AD, and Khan BV. Effects of labetalol on soluble markers of inflammation in acute coronary syndrome in patients
with active cocaine use. Abstract presented at: AHA 2005 Meeting and Georgia ACC chapter Meeting. Best Abstract Presentation Award, Nov 2005.
Ramos JJ, Khan QA, Thoenes M, and Khan BV. Atorvastatin: beyond lipid-lowering effects in
the diabetic population. Future Cardiology, 2006. 2:527-533.
Ramos JJ and Wenger NK. "Steal Syndromes" in American Heart Association Clinical Cardiac Consult. 2nd Edition. (Nixon JV, Ed) Lippincott, Williams, Wilkins, 2006.
Ramos JJ, Williams M, Synetos A, Lerakis S. Clinical utility of cardiac computed tomography. American Journal of Medical Sciences, 2007. 334:350-355.
Santana C.A., Garcia E.V., Faber T.L., Sirineni G., Esteves F., Sanyal R., Halkar R., Ornelas M.,Verdes L., Lerakis S., Ramos JJ, Aguadé-Bruix S., Cuéllar H., Candell-Riera J, Raggi P. Diagnostic performance of fusion of myocardial perfusion imaging (MPI) and computed tomography coronary angiography . Journal of Nuclear Cardiology, 2009. 16:201-211.
Taub CC, Ramos JJ, Rosser ML, Mujtaba S, Pina IL. Women and Heart Failure. Heart Disease in Women. ISBN: 928-93-5152-294-2.