Natalie A. Bello, MD, MPH
Board Certifications:
Internal Medicine, Cardiovascular Disease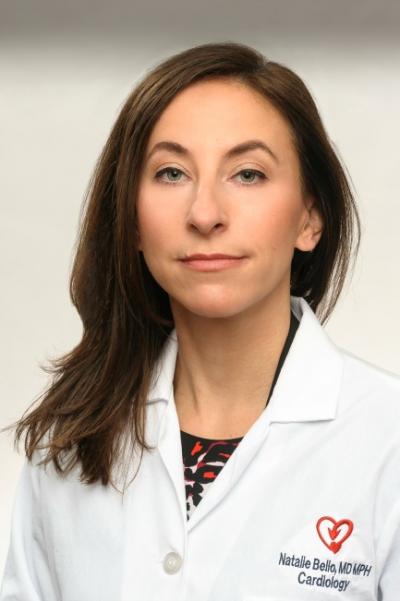 Overview
Areas of Expertise / Conditions Treated
Clinical Echocardiography, Advanced Cardiac Imaging, Echo Stress Test, Echocardiography, Nuclear Cardiac Imaging, Cardiac Ultrasound, Cardiac Imaging
Academic Appointments
Assistant Professor of Medicine at CUMC
Natalie Bello, MD, MPH, is a multimodality imaging cardiologist who returned to join the Columbia faculty after completing clinical and research fellowships at Harvard Medical School. She is board certified in internal medicine, cardiovascular disease, echocardiography, nuclear cardiology, and has advanced training in cardiovascular MRI.
Her research focuses on better understanding the relationships between hypertensive disorders of pregnancy, future cardiovascular risk, and peripartum cardiomyopathy, as well as the use of echocardiography and cardiovascular MRI in assessing the effects of obesity on cardiovascular structure and function. 
Hospital Affiliations
NewYork-Presbyterian/Columbia
Location(s)
CUMC/Milstein Hospital Building
177 Fort Washington Avenue
Insurance Accepted
Aetna
EPO
HMO
Medicare Managed Care
NY Signature
NYP Employee Plan
POS
PPO
Signature Administrators
Student Health
Cigna
EPO
Great West
HMO
POS
PPO
Emblem/GHI
Medicare Managed Care
PPO
Emblem/HIP
ConnectiCare
EPO
Essential Plan
HMO
Medicaid Managed Care
Medicare Managed Care
POS
PPO
Select Care (Exchange)
Vytra
Empire Blue Cross Blue Shield
Blue Access (Exchange)
EPO
Gatekeeper (Exchange)
HMO
Medicare Managed Care
Pathway (Exchange)
POS
PPO
Oxford Health Plans
Freedom
Liberty
Medicare Managed Care
UnitedHealthcare
Columbia University Employee Plan
Compass (Exchange)
Essential Plan
HMO
Medicaid (Community Plan)
Medicare Managed Care
POS
PPO
*Please contact the provider's office directly to verify that your particular insurance is accepted.
Credentials & Experience
Education & Training
MD, University of Rochester, School of Medicine and Dentistry
Residency: NewYork-Presbyterian Hospital/Columbia University Medical Center
Fellowship: Beth Israel Deaconess Medical Center
Board Certifications
Internal Medicine
Cardiovascular Disease
Honors & Awards
2017- American College of Cardiology/William F. Keating, Esq. Endowment Career Development Award for Hypertension Research
2012 - Value-Based Health Care Delivery, Harvard Business School
2011 - Franz Aepfelbacher Award, Beth Israel Deaconess Medical, Division of Cardiology
2011 - Women's Career and Leadership Development Conference, American College of Cardiology
2008 - Gold Foundation Circle of Excellence, Columbia University College of Physicians and Surgeons
2005 - Glasgow-Rubin Achievement Citation, American Medical Women's Association
2005 - Alpha Omega Alpha, University of Rochester Medical Center
1995-1999 - Cornell Tradition Fellow, Cornell University
Research
Grants
BLOOD PRESSURE MEASUREMENT AND HYPERTENSION IN PREGNANCY (Federal Gov)

Apr 1 2018 - Mar 31 2023
INSTITUTIONAL CAREER DEVELOPMENT CORE (Federal Gov)

Jul 1 2016 - May 31 2021
HOME BLOOD PRESSURE MONITORING AND HYPERTENSION IN PREGNANCY (Private)

Jul 1 2017 - Mar 31 2018
SYSTOLIC BLOOD PRESSURE INTERVENTION TRIAL (SPRINT) (Federal Gov)

Sep 14 2010 - Oct 2 2017
Selected Publications
Teerlink JR, Qian M, Freudenberger RA, Bello NA, Di Tullio MR, Graham S, Mann DL, Sacco RL, Mohr JP, Labovitz AJ, Ponikowski PP, Lok DJ, Anker SD, Thompson JL, Homma S, for the WARCEF Investigators. Aspirin does not increase heart failure events in chronic systolic heart failure patients- an analysis of the WARCEF Trial. JACC Heart Fail. 2017 Aug; 5(8).

Upadhya B, Rocco M, Lewis CE, Oparil S, Lovato LC, Cushman WC, Bates JT, Bello NA, Aurigemma G, Fine LJ, Johnson KC, Rodriguez CJ, Raj DS, Rastogi A, Tamariz L, Wiggers A, Kitsman DW. The effect of intensive blood pressure treatment on heart failure events in the Systolic Blood Pressure Reduction Intervention Trial. Circ Heart Fail. 2017 Apr; 10(4). pii:e003613.

Bello NA*, Hyacinth HH*, Roetker NS, Seals SR, Naik RP, Derebail VK, Kshirsagar AV, Key NS, Wilson JG, Correa A, Robert AJ, Egede LD, Longstreth W, Choudhary G, Gee BE, Hughes AL, Shah AM, Manson JE, Allison M, Burke GL, Folsom AR, Carty CL, Reiner AP, Solomon SD, Konety SH. Sickle cell trait is not associated with an increased risk of heart failure or abnormalities of cardiac structure and function in African Americans. Blood. 2017 Feb 9; 129(6):799-801.

Drawz P, Pajewski N, Bates J, Bello NA, Cushman W, Dwyer J, Fine L, Goff D, Haley W, Krousel-Wood M, McWilliams W, Rifkin D, Slinin Y, Taylor A, Townsend R, Wall B, Wright J, Rahman M. Effect of intensive versus standard clinic-based hypertension management on ambulatory blood pressure - results from the SPRINT ambulatory blood pressure study. Hypertension. 2017 Jan; 69(1):42-50. 

Bello NA, Cheng S, Claggett B, Shah A, Ndumele C, Roca GQ, Santos ABS, Gupta D, Vardeny O, Aguilar D, Folsom AR, Butler KR, Kitzman DW, Coresh J, Solomon SD. Association of Weight and Body Composition on Cardiac Structure and Function in the Atherosclerosis Risk in Communities (ARIC) Study. Circ Heart Fail. 2016; 2016; Aug 9(8).

Ndumele C, Matsushita K, Lazo M, Bello N, Blumenthal R, Gerstenblith G, Nambi V, Ballantyne C, Solomon S, Selvin E, Folsom A, and Coresh J. Obesity and Subtypes of Incident Cardiovascular Disease. J Am Heart Assoc. 2016 Jul 28;5(8). pii:e003921.

Gori M, Gupta DK, Claggett B, Selvin E, Folsom AR, Matsushita K, Bello NA, Cheng S, Shah A, Skali H, Vardeny O, Ni H, Ballantyne CM, Astor BC, Klein BE, Aguilar D, Solomon SD. Natriuretic peptide and high-sensitivity troponin for cardiovascular risk prediction in diabetes: The Atherosclerosis Risk in Communities (ARIC) Study. Diabetes Care. 2016;39:677-85.

Booth JN, Muntner P, Diaz KM, Viera AJ, Bello NA, Schwartz JE, Shimbo DS. Evaluation of criteria to detect masked hypertension. Journal Clin Hypertens. 2016 Nov; 18(11):1086-1094.

McMurray JJ, Krum H, Abraham WT, Dickstein K, Kober LV, Desai AS, Solomon SD, Greenlaw N, Ali MA, Chiang Y, Shao Q, Tarnesby G, Massie BM. ATMOSPHERE Committees Investigators. Aliskiren, Enalapril, or Aliskiren and Enalapril in Heart Failure. N Engl J Med. 2016; 374:1521-32.

Querejeta Roca G. Redline S, Claggett B, Bello N, Ballantyne CM, Solomon SD, Ahah AM. Sex-specific association of sleep apnea severity with subclinical myocardial injury, ventricular hypertrophy and heart failure risk in a community dwelling cohort: The Atherosclerosis Risk in Communities - Sleep Heart Health Study. Circulation. 132:1329-37.

Bello N, Lewis EF, Desai AS, Anand IS, Krun H, McMurray JJV, Olson K, Solomon SD, Swedberg K, van Veldhuisen DJ, Young JB, Pfeffer MA. Increased risk of stroke with darbepoetin alfa in anaemic heart failure patients with diabetes and chronic kidney disease. Eur J Heart Fail. 2015: 17:1201-7.

Santos ABS, Gupta D, Bello NA, Gori M, Claggett B, Fuchs FD, Shah AM, Coresh J, Sharrett AR, Cheng S, Solomon SD. Prehypertension is associated with abnormalities of cardiac structure and function in the Atherosclerosis Risk in Communities (ARIC) Study. Am J Hypertens. 2016;29:568-74.

Skali H, Shah A, Gupta DK, Cheng S, Claggett B, Liu J, Bello N, Aguilar D, Vardeny O, Matsushita K, Selvin E, Solomon S. Cardiac structure and function across the glycemic spectrum in elderly men and women free of prevalent heart disease: The Atherosclerosis Risk In the Community (ARIC) Study.  Circ Heart Fail. 2015;8:448-54.

Desai AS, Claggett B, Pfeffer MA, Bello N, Finn PV, Granger CB,  McMurray JJ, Pocock S, Swedberg K, Yusuf S, Solomon SD.  Influence of hospitalization for cardiovascular versus noncardiovascular reasons on subsequent mortality in patients with chronic heart failure across the spectrum of ejection fraction.  Circ Heart Fail. 2014;7:895-902.

McMurray JJ, Packer M, Desai AS, Gong J, Lefkowitz MP, Rizkala AR, Roleau JL, Shi VC, Solomon SD, Swedberg K, Zile MR; PARADIGM Investigators and Committees.  Angiotensin-neprilysin inhibition versus enalapril in heart failure.  N Engl J Med.  2014; 371:993-1004. 

Bello NA, Claggett B, Desai AS, McMurray JJ, Granger CB, Yusuf S, Swedberg K, Pfeffer MA, Solomon SD.  Influence of prior heart failure hospitalization on cardiovascular events in patients with reduced and preserved ejection fraction.  Circ Heart Fail.  2014;7:590-5.

Bello N, Pfeffer MA, Skali H, McGill JB, Rossert J, Olson KA, Weinrauch L, Cooper ME, Parving HH, de Zeeuw D, Rossing P, McMurray JJV, Solomon SD.  Retinopathy and clinical outcomes in patients with type 2 diabetes mellitus, chronic kidney disease, and anemia.  BMJ Open Diabetes Research and Care. 2014; 2:eCollection.

Santos AB*, Kraigher-Krainer E*, Bello N, Claggett B, Zile MR, Pieske B, Voors AA, McMurray JJV, Packer M, Bransford T, Lefkowitz M, Shah AM, Solomon SD.  Left ventricular dyssynchrony in patients with heart failure and preserved ejection fraction.  Eur Heart J.  2014;35:42-7.

Bello N, Hurtado Rendon IS, Zrany Z.  The relationship between preeclampsia and peripartum cardiomyopathyL a systematic review and meta-analysis.  J Am Coll Cardiol.  2013; 62: 1715-23. 

Moghari MH, Roujol S, Chan RH, Hong SN, Bello N, Henningsson M, et al. Free-breathing 3D cardiac MRI using iterative image-based respiratory motion correction. Magn Reson Med. 2013;70:1005-15.