Cardiorenal Care
Make an Appointment
Our team is here to help you make an appointment with the specialists that you need.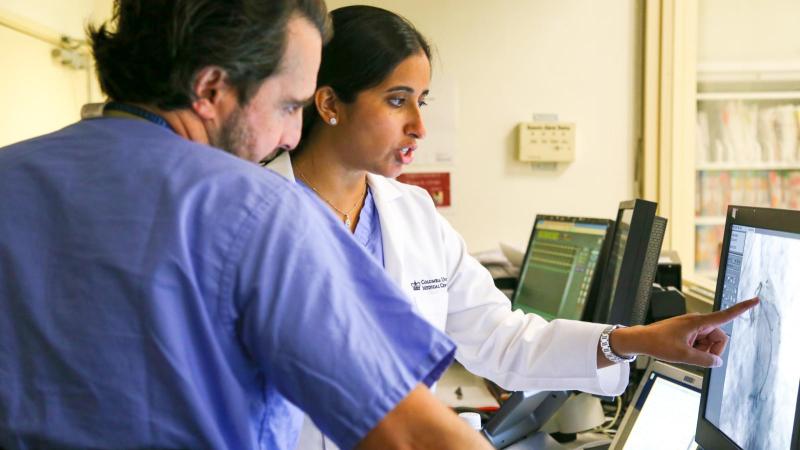 If you have advanced kidney disease and need a heart procedure or transplant clearance, you may feel like there's no one who can help. You may have been turned down for a heart procedure simply because your kidney disease places you in a high-risk category. Or a renal program may have determined that you can't be cleared for a kidney transplant.
But at Columbia, we're changing the way people think about treating patients with heart conditions and kidney disease. As part of our Cardiorenal Care Program, we regularly perform interventions no one else will—safely and with less risk to your kidneys.
To make an appointment, please call 212-305-7060 or complete our online appointment request form.
Treating Cardiovascular Disease Without Damaging the Kidneys
Many patients with kidney disease have accompanying cardiovascular disease, like coronary artery disease or atrial fibrillation. For proper diagnosis and treatment of these heart conditions, many tests and procedures require a special dye that shows the contrast needed for clear imaging. Because the typical amount of dye used is damaging to the kidneys, patients with renal disease are often deemed too high-risk. This is especially true for patients who are not currently on dialysis.
Our team of specialists has developed and refined an innovative approach to interventional cardiac procedures: By greatly reducing the amount of dye used, our cardiologists can safely and effectively perform these procedures while reducing the risk of kidney damage. These "low-contrast" interventions and imaging can help patients who had previously been unable to safely get the care they need.
Our Services
Low-contrast interventions - Using this kidney-friendly method, we can safely treat a number of heart and vascular conditions in patients with renal disease, including:

Aortic stenosis
Atrial fibrillation
Coronary artery disease
Complex higher-risk (and indicated) patients (CHIP)
Heart failure
Lower extremity peripheral artery disease

Cardiovascular assessments for kidney transplant clearances - Because cardiovascular complications often lead to poor outcomes for kidney transplant patients, preoperative cardiac risk assessments are an important part of the selection process for transplant recipients. As part of our Cardiorenal Care Program, we can safely assess heart function for kidney transplant clearances. Our experts can also work with patients to effectively manage their heart disease and help get them healthy enough for clearance. 
---
What Specialists Will Be Part of my Care?
Interventional Cardiologist
An interventional cardiologist is trained to perform minimally invasive transcatheter procedures using a thin tube called a catheter that is inserted into an artery or vein to access and treat the heart and blood vessels. There are different subspecialties of interventional cardiologists, depending on what conditions they treat. Most transcather procedures are performed in a specialized facility called a catheterization laboratory, or cath lab for short.
Cardiac Imaging Specialist
A cardiac imaging specialist provides essential information for diagnosing heart problems and guiding interventional procedures. They use advanced imaging technologies like computed tomography (CT), echocardiography, and X-rays to create accurate images of the heart and blood vessels. Imaging specialists and interventional cardiologists work together to map out procedures in real time—without open surgery.
Percutaneous Coronary Intervention (PCI) Specialist
A percutaneous coronary intervention (PCI) specialist is an interventional cardiologist who treats coronary artery disease (CAD)—when blood vessels that provide blood to the heart narrow due to plaque buildup. Complex and high-risk coronary intervention specialists treat the most complex cases of CAD. Because of the need for imaging technology to guide the procedures, PCIs are performed in a cath lab.
Endovascular Specialist
An endovascular specialist is an interventional cardiologist who treats problems with your circulatory system outside of your heart—your arteries, veins, and lymphatic vessels. Problems with circulation in your legs and arms can impact your quality of life and may contribute to larger problems down the road. Some endovascular treatments can be performed in practice offices.
Structural Heart and Valve Specialist
A structural heart and valve specialist is an interventional cardiologist who can diagnose and treat valvular heart disease. When the valves of the heart don't open and close properly, it becomes harder for the heart to pump blood to the rest of the body. Thanks to recent advances, replacement valves can be inserted and implanted to take over the function of the diseased valves without open surgery. Because of their complexity, structural heart procedures like valve replacements are performed in a cath lab.
General Cardiologist
A general cardiologist can diagnose and treat many forms of heart disease. These doctors are the first point of contact for patients and play an important role in managing heart health. When patients with heart disease can no longer manage their symptoms with medication and lifestyle changes, general cardiologists may refer them to interventional cardiologists for treatment. General cardiologists also work with the interventional care team to manage a patient's recovery and long-term heart health.
---
Our Team
Megha Prasad, MD, MS
Director, Cardiorenal Care Program
Torsten Vahl, MD
Structural Heart and Valve Care
Lloyd Ratner, MD
Director, Renal and Pancreatic Transplantation
David Cohen, MD
Nephrology
---
Highlights
Trust the Experts at Columbia
Here at Columbia, you'll be working with some of the leading cardiologists in the nation. And if you choose to work with the outstanding renal program here for your transplant, we'll work closely with your team to help manage your heart health while you prepare—and while you recover.
The Most Complex Cases
Our expertise and experience with low-contrast techniques allow us to provide care for patients seeking treatment or transplant clearances who have been turned away by other programs. And for transplant recipients, we can work with them in our clinic to manage their heart health long-term—and always using techniques that greatly reduce the risk to their kidneys.
A Multispecialty Approach to Care
Our Cardiorenal Care Program combines expertise from across Columbia, with experts in structural heart valve care, heart failure, cardiovascular imaging, interventional cardiology, and general cardiology. We work closely with world-class nephrologists, internal medicine specialists, and transplant surgeons to provide the very best in comprehensive care.
Columbia Virtual Visits
For some appointments, it may not be necessary to come into the office at all. We offer Virtual Visit telehealth appointments, so you can see a member of our team from the comfort of your own home. When you contact us to make an appointment, we will work with you to determine if a Virtual Visit is right for you.
Our Location
Columbia University Medical Center
161 Fort Washington Ave. 6th Floor Herbert Irving Pavilion
United States
Open location in Google Maps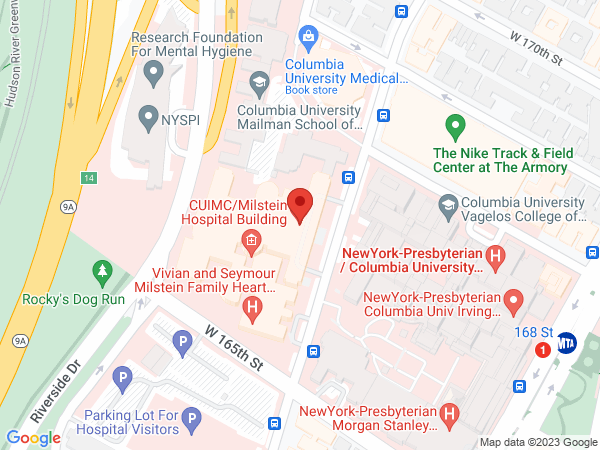 Make an Appointment
We accept most major insurance plans and can verify your plan when you call to make your appointment.
To make an appointment with a member of our Cardiorenal Care team, please call 212-305-7060.
Or complete our online appointment request form and our office will follow up with you soon.
Make an Appointment
Our team is here to help you make an appointment with the specialists that you need.