Vascular and Endovascular Care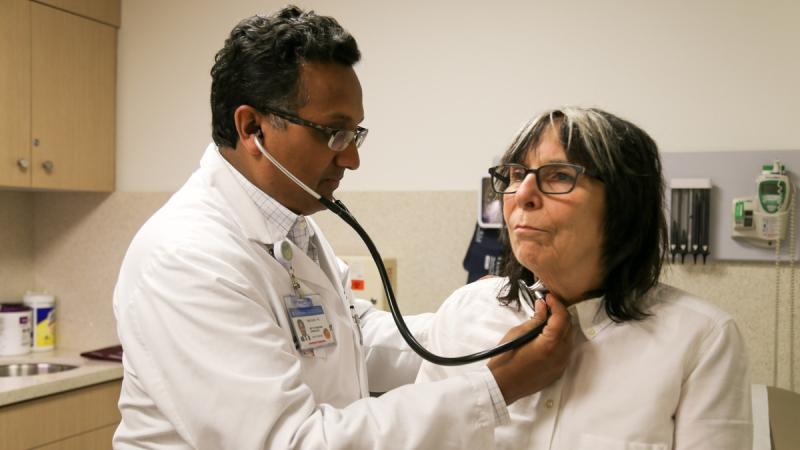 If vascular disease is affecting your quality of life, the Endovascular Care team at Columbia can help. We've pioneered many of the minimally invasive techniques and treatments that have become standards of care for vascular disease. 
To make an appointment, please call 212-305-7060 or complete our online appointment request form.
What Is Vascular Disease?
Vascular disease is any condition that causes problems with blood flow in your circulatory system—your arteries, veins, and lymphatic vessels. Vascular disease can rob you of energy, cause discomfort and pain, and lead to wounds that won't heal. It can also increase your risk of stroke, heart attack and amputation.
Medication and lifestyle changes like proper exercise and diet can be enough to manage some types of vascular disease. But in cases where these changes aren't enough, vascular disease can be treated without surgery using minimally invasive endovascular treatments.
What Are Endovascular Treatments?
Endovascular treatments are minimally invasive procedures that use small incisions and catheters to access the disease site through the blood vessel and restore healthy blood flow. Often performed at specialized facilities called catheterization laboratories or "cath labs," endovascular treatments offer a range of advantages, including:
Safety - Endovascular treatments are effective options for patients who are considered high risk for traditional surgery
Faster and Less Complicated - Typically performed with local or regional anesthesia, endovascular treatments allow patients to go home quickly, often on the same day as the procedure
Faster Recovery - Patients are able to resume regular activity quickly
Cost - Because there is no long hospital stay and no complex surgery and recovery, endovascular treatments are less expensive 
Conditions We Treat
Atherosclerosis - Hardening of the arteries due to a buildup of plaque
Peripheral Arterial Disease - Vascular disease affecting blood vessels outside of the heart, including in the lower extremities
Pulmonary embolism - A blockage in an artery in the lung caused by a blood clot, often originating in the leg
Venous Disease - Damaged veins, including those that cause varicose veins, spider veins, and ulcers
Blood Clots - When blood pools in the body, it can form clots that block healthy blood flow
Ischemia - Inadequate blood flow to the body's tissues
Aneurysm - A bulge in the wall of a blood vessel
Our Services
Balloon Angioplasty - A small balloon is inserted into the artery and inflated, forcing the blood vessel to widen and improving blood flow
Stent - Often performed with an angioplasty, a stent is a mesh wire tube that is expanded to strengthen and support a blood vessel
Atherectomy - A catheter is inserted into the artery with a small device that scrapes away the plaque buildup
Vein Ablation for Varicose Veins - This targeted procedure uses heat to close off varicose veins, reducing pain and irritation
Management of Ischemia-Related Wounds - Restoring blood flow to promote healing in tissue with ischemia-related wounds
---
What Specialists Will Be Part of my Care?
Interventional Cardiologist
An interventional cardiologist is trained to perform minimally invasive transcatheter procedures using a thin tube called a catheter that is inserted into an artery or vein to access and treat the heart and blood vessels. There are different subspecialties of interventional cardiologists, depending on what conditions they treat. Most transcather procedures are performed in a specialized facility called a catheterization laboratory, or cath lab for short.
Endovascular Specialist
An endovascular specialist is an interventional cardiologist who treats problems with your circulatory system outside of your heart—your arteries, veins, and lymphatic vessels. Problems with circulation in your legs and arms can impact your quality of life and may contribute to larger problems down the road. Some endovascular treatments can be performed in practice offices.
General Cardiologist
A general cardiologist can diagnose and treat many forms of heart disease. These doctors are the first point of contact for patients and play an important role in managing heart health. When patients with heart disease can no longer manage their symptoms with medication and lifestyle changes, general cardiologists may refer them to interventional cardiologists for treatment. General cardiologists also work with the interventional care team to manage a patient's recovery and long-term heart health.Accordion content...
---
Our Team
Sahil Parikh, MD
Director of Endovascular Services
Sanjum Sethi, MD
Director of the Pulmonary Embolism Response Team
Ajay Kirtane, MD, SM
Director of the Columbia Interventional Cardiovascular Care program
---
Highlights
Columbia Expertise
Our interventional cardiologists have experience with even the most complex conditions, and we continue to drive research into innovative and groundbreaking potential treatments.
Vascular conditions can also affect many areas of the body and may require input from other specialists. Our top-notch team collaborates with other world-renowned experts at Columbia University Irving Medical Center, ensuring that you receive the care you need.
Care at NewYork-Presbyterian Hospital 
Our advanced Catheterization Laboratory at NewYork-Presbyterian Hospital provides the highest level of care using the latest technology, including on-site access to advanced diagnostic testing to make sure your treatment is fast, comfortable, and effective.
Columbia Virtual Visits
For some appointments, it may not be necessary to come into the office at all. We offer Virtual Visit telehealth appointments, so you can see your doctor from the comfort of your own home. When you contact us to make an appointment, our team will work with you to determine if a Virtual Visit is right for you.
Our Locations
Columbia University Irving Medical Center
161 Fort Washington Ave. 6th Floor
Herbert Irving Pavilion
United States
Open location in Google Maps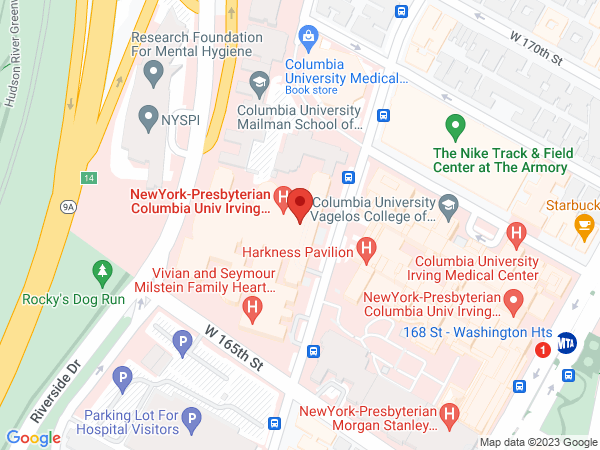 Make an Appointment
We accept most major insurance plans and can verify your plan when you call to make your appointment.
To make an appointment, please call 212-305-7060.
Or complete our online appointment request form and our office will follow up with you soon.