Complex Coronary Care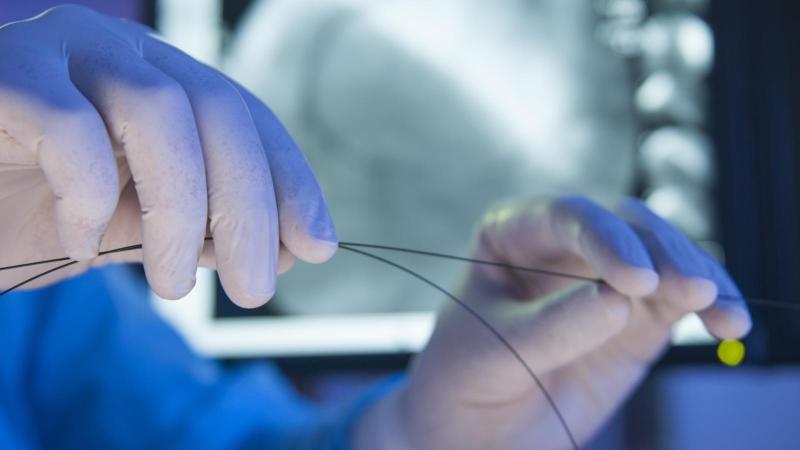 If you have advanced coronary artery disease, you might feel like you're out of options.  But at Columbia, we regularly take on cases no one else can.  Our Complex Coronary Care team offers a level of experience and skill that's unmatched in the New York City area. From treating cases with medications without the need for intervention to managing the most complex cases requiring world-class expertise, Columbia offers the very best care for your coronary artery disease (CAD). 
To make an appointment, please call 212-305-7060 or complete our online appointment request form.
What is CAD?
Your coronary arteries provide your heart with blood, oxygen, and other essential nutrients. Coronary artery disease (CAD) develops when these blood vessels narrow due to plaque buildup, decreasing blood flow to your heart. 
This reduced blood flow can lead to angina (chest pain), shortness of breath, and fatigue, directly impacting your quality of life.
CAD can be treated with a minimally invasive procedure called a percutaneous coronary intervention (PCI) that opens the artery and restores blood flow to the heart. The blocked arteries are accessed using a catheter, avoiding the stress and long recovery times associated with surgery.
In more severe cases, the arteries can become blocked in multiple locations (multivessel disease) or can become totally blocked (chronic total occlusion), leading to decreased blood flow to the heart muscle.
Our Services
Coronary Artery Angioplasty is a non-surgical procedure that widens a narrowed or blocked artery. A small balloon is inserted into the artery and inflated, forcing the blood vessel to expand and improving blood flow 
Stenting is a treatment where a mesh wire tube is inserted and expanded inside a blocked artery to strengthen and support the blood vessel
Atherectomy is a minimally invasive procedure wherein a catheter is inserted into an artery with a small device that scrapes away the plaque buildup
---
What Specialists Will Be Part of my Care?
Interventional Cardiologist
An interventional cardiologist is trained to perform minimally invasive transcatheter procedures using a thin tube called a catheter that is inserted into an artery or vein to access and treat the heart and blood vessels. There are different subspecialties of interventional cardiologists, depending on what conditions they treat. Most transcather procedures are performed in a specialized facility called a catheterization laboratory, or cath lab for short.
Percutaneous Coronary Intervention (PCI) Specialist
A percutaneous coronary intervention (PCI) specialist is an interventional cardiologist who treats coronary artery disease (CAD)—when blood vessels that provide blood to the heart narrow due to plaque buildup. Complex and high-risk coronary intervention specialists treat the most complex cases of CAD. Because of the need for imaging technology to guide the procedures, PCIs are performed in a cath lab.
Cardiac Imaging Specialist
A cardiac imaging specialist provides essential information for diagnosing heart problems and guiding interventional procedures. They use advanced imaging technologies like computed tomography (CT), echocardiography, and X-rays to create accurate images of the heart and blood vessels. Imaging specialists and interventional cardiologists work together to map out procedures in real time—without open surgery.
General Cardiologist
A general cardiologist can diagnose and treat many forms of heart disease. These doctors are the first point of contact for patients and play an important role in managing heart health. When patients with heart disease can no longer manage their symptoms with medication and lifestyle changes, general cardiologists may refer them to interventional cardiologists for treatment. General cardiologists also work with the interventional care team to manage a patient's recovery and long-term heart health.
---
Our Team
Ajay Kirtane, MD
Director of the Columbia Interventional Cardiovascular Care
Martin Leon, MD
Chief Innovation Officer
Margaret McEntegart, MD
Director of the Cardiac Catheterization Laboratories, Complex PCI and CTO Programs
Jeffrey Moses, MD
Director of Interventional Cardiovascular Therapeutics
Michael Collins, MD
Associate Director of the Cardiac Catheterization Laboratories
---
Highlights
The Most Complex Cases
Columbia specializes in treating severe CAD in patients who are considered "high risk." Known as Complex Higher-Risk (And Indicated) Patients (CHIP), these people have often been turned down for surgery or procedures elsewhere. We collaborate with other Columbia specialists to manage CHIP patients with conditions affecting other organs to safely and effectively eliminate their coronary blockages. Our success rate with CHIP cases has established Columbia as the option for patients who have been told they have none.
Thoughtful Approach to Care
At Columbia, we're confident in our expertise and our ability to take on the most difficult cases. But equally important, we know that the right choice isn't always the same choice for everyone. As part of our thoughtful approach to cardiac care, we can identify cases where intervention is unnecessary and work with you to find a treatment that's right for you.
Trust the Experts at Columbia
Columbia is home to some of the most experienced interventional cardiologists in the field. We perform more CTO PCIs than any other team in the region and regularly train other experts from around the world on the latest PCI techniques and technologies.
Care at NewYork-Presbyterian Hospital 
Our advanced Catheterization Laboratory at NewYork-Presbyterian Hospital provides the highest level of care using the latest technology, including on-site access to advanced diagnostic testing to make sure your treatment is fast, comfortable, and effective.
Columbia Virtual Visits
For some appointments, it may not be necessary to come into the office at all. We offer Virtual Visit Telehealth appointments, so you can see your doctor from the comfort of your own home. When you contact us to make an appointment, our team will work with you to determine if a Virtual Visit is right for you.
Our Location
Columbia University Irving Medical Center
161 Fort Washington Ave. 6th Floor
Herbert Irving Pavilion
United States
Open location in Google Maps
Make an Appointment
We accept most major insurance plans and can verify your plan when you call to make your appointment.
To make an appointment with a member of our Complex Coronary Care team, please call 212-305-7060.
Or complete our online appointment request form and our office will follow up with you soon.