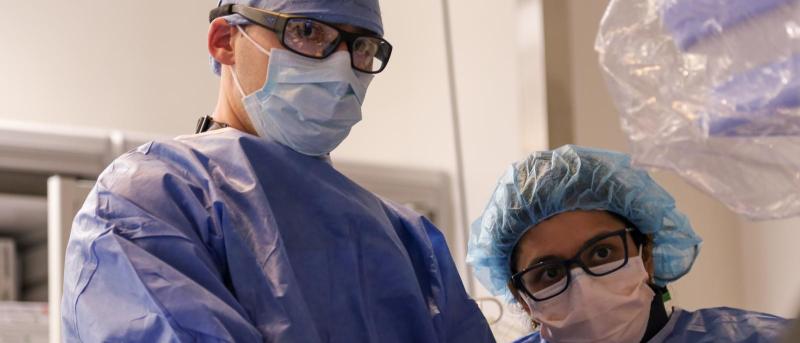 Five questions with Dr. Ari Jody Mintz, Interventional Cardiologist and Endovascular Specialist
We spoke with Dr. Ari "Jody" Mintz, DO, about joining the faculty at Columbia's Interventional Cardiovascular Care program and his role as both an interventional cardiologist and an endovascular specialist.
---
Why did you become a doctor?
I was exposed to medicine from a young age as both my parents are physicians. I'm one of five kids. Three of us are physicians, and we all practice in very similar specialties. My oldest sister practices noninvasive vascular medicine, and my brother is a cardiologist pursuing a career in advanced heart failure. 
Our parents encouraged us to aspire towards careers which were both fulfilling and of service to others. I saw that my parents loved what they do and being able to see them enjoy their work so much made it easy for me. By the time I was in high school, I knew I wanted to pursue medicine. When I went to college, I didn't want to study only medicine, so I studied public policy and law with a concentration in health policy. I didn't want my entire life to revolve only around sciences, and I wanted to have a broader education. 
I went to medical school in Missouri and then came back to the northeast for all my training: first with residency at Lahey Hospital & Medical Center and then Massachusetts General Hospital for my first fellowship in noninvasive vascular medicine. I went back to Lahey for my general cardiology and interventional cardiology fellowships and then Brown University for my endovascular training, which is the interventional vascular fellowship. 
During all of that, I got back together with my high school sweetheart. We dated in high school, were apart for 10 years, and then got back together and got married. We have two kids. We wanted to come back to the New Jersey area to be near our families. So when I was recruited by Martin Leon, MD and Sahil Parikh, MD, to come join Columbia, it was a chance I couldn't pass up. This has been such a welcoming and collegial environment. It's exactly what I've been looking for. 
What is your role at Columbia?
I'm an interventional cardiologist with a subspeciality in vascular medicine and vascular interventions. I treat vascular issues of the heart as well as outside of the heart, also known as endovascular care. My passion is treating peripheral arterial disease and critical limb ischemia, and my particular focus is on healing wounds to prevent amputation, or limb salvage. 
Peripheral arterial disease is the buildup of plaque within the arteries of the legs, which can cause symptoms like fatigue, or discomfort, in the leg when exerting oneself, something called claudication. Critical limb ischemia is the end stage of peripheral arterial disease—these patients are at risk of losing their affected limbs due to insufficient blood flow.
I have an interest in blood clots in the veins of the legs, called deep vein thrombosis or DVT, and pulmonary embolism, which is when blood clots end up in the lungs. 
I also treat superficial vein conditions which can cause people to have swelling in the legs because of incompetent valves in the veins of the legs. I can do office-based procedures to treat those patients as well. These conditions can have a huge impact on a patient's quality of life, so I also work with them to reduce symptoms through risk factor reduction and lifestyle changes. 
I also use noninvasive vascular testing like ultrasound to look at the arteries and veins of the lower extremities, the upper extremities, the neck, and the abdominal arteries and veins. It's quick and uses no radiation, contrast dye, or needles. They're usually very quick testing and they can be done in an office setting. You gather an enormous amount of information that can be clinically useful both in ruling in and ruling out diseases. 
Why should someone see an interventional cardiologist for endovascular care?
For interventional vascular care, there are several different specialties which provide similar services with quite a bit of overlap. The reason I took this path was because I really wanted that medicine side of the equation. I wanted the ability to provide care in a holistic way and make sure I was looking at the patient as a whole and providing comprehensive cardiovascular care. 
It's one of the reasons I love Columbia. The patient complexity is enormous, and that complexity reminds us why we do what we do. The approach we use here is to treat the entire spectrum of the cardiovascular system: not just the heart, but any of the blood vessels outside the heart as well. It gives us a unique perspective.
What areas of current research for endovascular treatment are you most excited about?
One of the fastest growing spaces in the endovascular side are new advanced therapies for pulmonary embolism. At Columbia right now, I think we are enrolling in four or five different trials for different therapies. Historically, the way that these patients were treated was with blood thinners. We would give somebody blood thinners and hope that they would do well. And if they were very, very sick, we might give them a clot busting medication through their IV, which has at this point an almost prohibitive risk of bleeding, as a result of just the way the medication works. 
Over the past 10 years or so, we've developed newer therapies that are geared toward more local administration of blood-clot busting medications directly into the clot through a procedure where we put catheters into the lung arteries. We also can go in directly and suck the clot out. That's an area that's shown a huge amount of growth in the past few years. At this point, we still don't exactly know the benefits of these approaches yet; we know they work, but we don't know the long-term benefits. So that's what all of these trials are focusing on: to examine the mid- and long-term outcomes of these approaches and which patients would specifically benefit from them. 
What motivates you as a doctor?
I think it's really important for a doctor to be more than a great technician. It's not enough to see a patient and treat them only knowing them based on the way their arteries look. It's very important to see that patient from beginning and in longitudinal follow up. Toward that end, Columbia is exactly the type of organization I've been looking for. While I see and treat patients here at Columbia, we have outreach clinics all over New York and will be opening an outreach clinic in New Jersey as well.
It's so important to establish that relationship. Many times, we see patients early on when there's nothing to do at all, which is great since we like to get people addressing risk factors as early as possible. But there tends to be a large group of people who get missed in the middle, with symptoms that are either ignored or mistaken for something else, and then may not be addressed early. And when we see them at the end stage, it can often be too late. So it's really important to recognize symptoms early on and get patients care and work with them as soon as those symptoms present. 
On a personal level, the most gratifying thing I've been involved with in this profession is when somebody comes to me for a second, sometimes third opinion after being told there's nothing that can be done about their legs—and we are able to do a procedure that saves them from losing one or both of their legs. That's about as satisfying as it gets.
Related