Elena Tsai, MD
Board Certifications:
Internal Medicine, Gastroenterology
Virtual Visits/Telehealth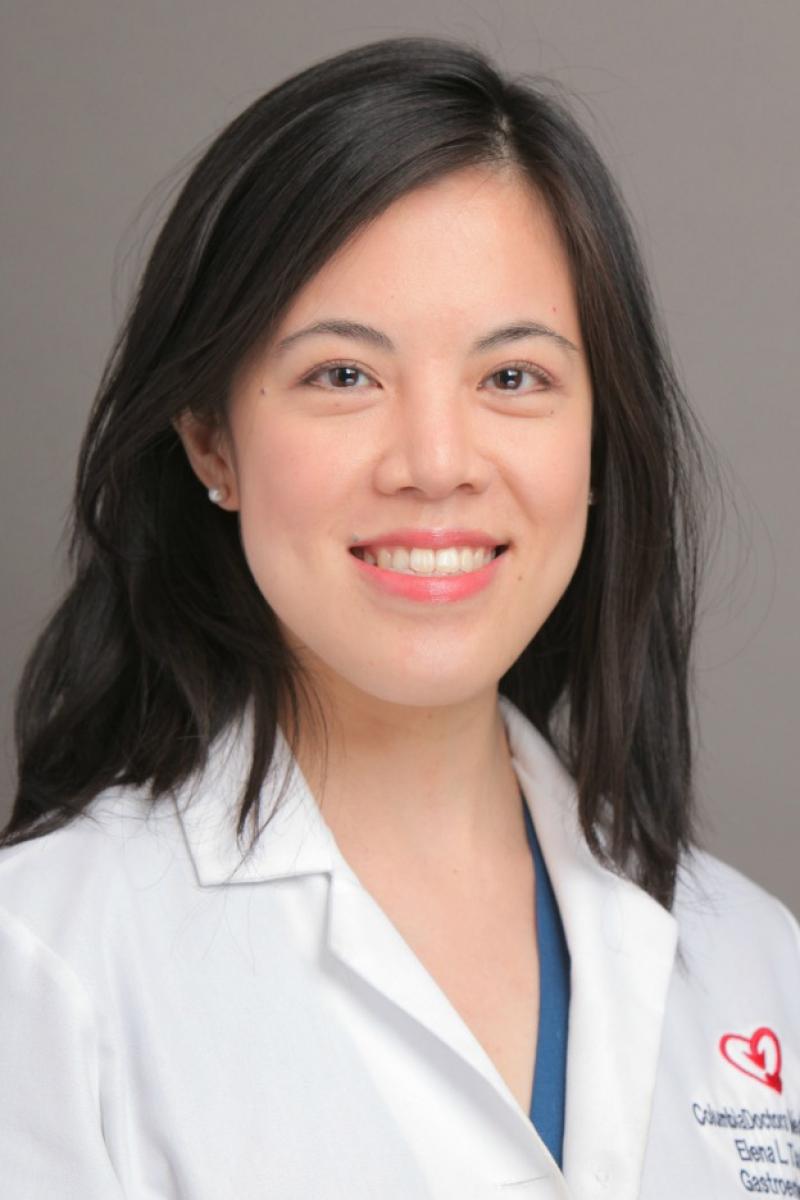 Overview
Areas of Expertise / Conditions Treated
Academic Appointments
Assistant Professor of Medicine at CUMC
Hospital Affiliations
NewYork-Presbyterian / Columbia University Irving Medical Center
NewYork-Presbyterian Lawrence Hospital
Schedule an Appointment
Virtual Visits/Telehealth
Virtual Visits allow you to connect with your provider from the comfort, convenience, and safety of your own home.
New and Existing Patients:
Connect Patient Portal
For existing patients, login to make an appointment, view documentation or contact your care provider.
Credentials & Experience
Education & Training
MD, University of Massachusetts Medical School
2004 University of Mass. Medical School
Board Certifications
Internal Medicine
Gastroenterology
Research
Selected Publications
Li H, Fan X, Stoicov C, Liu J, Zubair S, Tsai E, Ste. Marie R, Wang TC, Lyle S, Kurt-Jones E, Houghton J. Human and mouse colon cancer utilizes CD95 signaling for local growth and metastatic spread to liver. Gastroenterology 2009; 137:934-44.
Garden GA, Budd SL, Tsai E, Hanson L, Kaul M, D'Emilia DM, Friedlander RM, Yuan J, Masliah E, Lipton SA. Caspase cascades in HIV-induced neurodegeneration. J Neurosci 2002; 22:4015-24.
Corbo JC, Deuel TA, Long JM, LaPorte P, Tsai E, Wynshaw-Boris A, Walsh CA. Doublecortin is required in mice for lamination of the hippocampus but not the neocortex. J Neurosci 2002; 22:7548-57.
ORAL PRESENTATIONS
PillCam ESO for the detection of esophageal disease in patients presenting to the emergency department with noncardiac chest pain. American College of Gastroenterology, North American Conference of Gastroenterology Fellows, Orlando, FL; February 2010.
POSTER PRESENTATIONS
Schechter M, Sheikh I, Gorantla S, Briones FCP, Gupta A, Tsai E, Culpepper-Morgan J. Inaccuracy of patient recollection of prior colonoscopy in an inner-city population. Gastroenterology 2012; 142(S1): 407-8
Gupta A, SibaY, Gorantla S, Schechter M, Tsai E, Culpepper-Morgan A. Prevalence of eosinophilic esophagitis in African Americans and Hispanics presenting with dysphagia: A single center retrospective analysis. Gastroenterology 2012; 142(S1):437
Hyatt B, Finkelberg D, Tsai E, and Cave D. Clinical experience with the patency capsule: A single center retrospective review. Gastroenterology 2010; 138(S1):670.
Tsai E, Luckeroth P, Bhattacharya K, and Cave D. Management of multicentric small bowel carcinoid tumors: Use of video capsule and intraoperative endoscopy. Am J Gastroenterol 2009; 104(S3): 272
Tsai E and Patwardhan R. Relapsed follicular lymphoma manifesting as isolated colonic polyps. Am J Gastroenterol 2009; 104(S3):337.
Tsai E and Wassef W. Autoimmune pancreatitis mimicking a pancreatic neoplasm [abstract]. J Gen Intern Med 2006; 21(S4):224.
Sturrock P, Tsai E, Pitcher J, Yantiss R, Growney A, Jiang G, Tada H. Real-time RT-PCR analysis of primary and metastatic colon cancer for the presence of JC virus T-antigen. Annual Surgical Congress; February 2006, San Diego, CA.
Sturrock P, Tsai E, Pitcher J, Growney A, Tada H. Expression of JC virus T-antigen in primary colon cancers and synchronous metastases [abstract]. J Surg Res 2004; 121:328
Garden G, Tsai E, Hanson L, Singh S, Torelli R, Tun C, Guo W, Lipton S. Caspase inhibition prevents CNS injury in the HIV/gp120 transgenic mouse [abstract]. Soc Neurosci Abstr 2001; 27:1746
Garden G, Tsai E, Budd S, Lishnak T, Lipton S. Caspase-3-like activity in HIV/gp120-induced apoptosis [abstract]. Soc Neurosci Abstr 1999; 25:281