Advanced Heart Failure and Transplant Cardiology Fellowship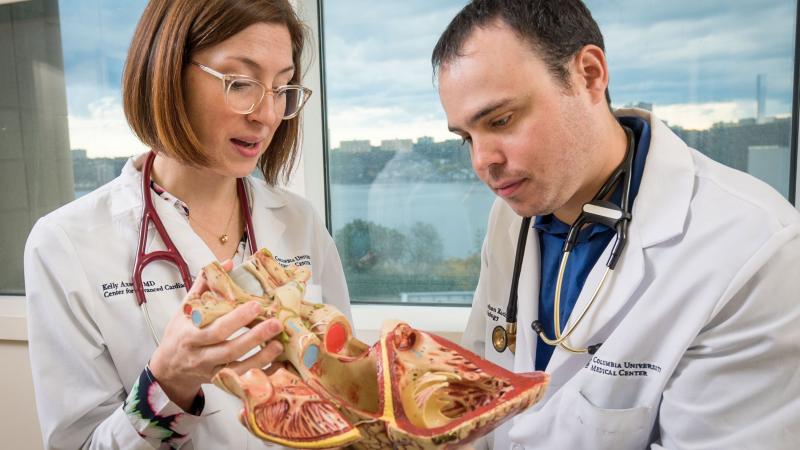 | | |
| --- | --- |
| Application Deadline | Rolling |
| Number of Positions Available | 3 |
| Length of Program | 1 year |
| Program Start Date | July 1 |
Rachel Bijou, MD
Fellowship Director
The Advanced Heart Failure and Transplant Cardiology Fellowship at NewYork-Presbyterian Hospital/Columbia University Irving Medical Center is a one-year education and training program in the management of all phases of heart failure and cardiac transplantation including the application and management of assist devices. Each July the program begins with a core curriculum lecture program targeted to the level of the advanced cardiology fellow. Over the course of 12 months, fellows learn about both inpatient and outpatient management. The program is accredited by ACGME.
Team
The heart failure and cardiac transplant team at the Center for Advanced Cardiac Care encompasses one of the largest heart failure and cardiac transplant programs in the United States. The multidisciplinary team of physicians, nurses, nurse practitioners, and social workers provides acute care for a diverse and thriving hospital service at a premiere medical center in New York City.
Clinical Experience
The objective for our fellows is to develop competency in management of patients with advanced heart failure and cardiac transplantation. This includes:
Management of patients with cardiomyopathy: Diagnose and manage new onset congestive heart failure; fellows will encounter less commonly occurring diseases such as cardiac sarcoidosis, cardiac amyloid, and acute myocarditis and learn to apply endomyocardial biopsy when indicated.
Management of patients with advanced congestive heart failure: Fellows are integral to the care of patients as they enter the critical stages of illness. Fellows are included in all aspects of assist device and transplant evaluation and management. This includes the selection process for assist device and transplant. Aspects of pre- and perioperative surgical care and long-term management including rejection, opportunistic infections, and transplant coronary disease are frequently encountered. On the device side, fellows will acquire competency in managing the complications related to assist devices and maintaining long term care.
Outpatient care: Fellows participate in a continuity clinic with direct attending supervision and participation. Fellows will be the primary cardiologist for a cohort of patients assigned to them. Fellows will manage the cardiac care, communicate with PCP, and coordinate care activities related to transplant/LVAD evaluation.
Research Program
Fellows have the opportunity to participate in a scholarly project under the mentorship of faculty member. This may include a research project or participation with the faculty in the initiation and conduct of a study.
How to Apply
All of our fellowship positions starting July 2019 have been filled.

Applications for July, 2020 will be accepted via the Electronic Residency Application System (ERAS).
Application process opens in December.
Our Program is designated NewYork-Presbyterian Hospital - Columbia Campus.
Program ID# is 1593514016.
Offer date for the following year is in May.
Requirements
Applicants must be ABIM board certified or board eligible in cardiovascular disease.
The accepted applicant must obtain a New York medical license.
Only J1 visas accepted.
We also require a CV, personal statement, and three letters of recommendation.
Contact
Sandra Acevedo
Fellowship Program Coordinator
212-342-4718
sa3479@cumc.columbia.edu