Members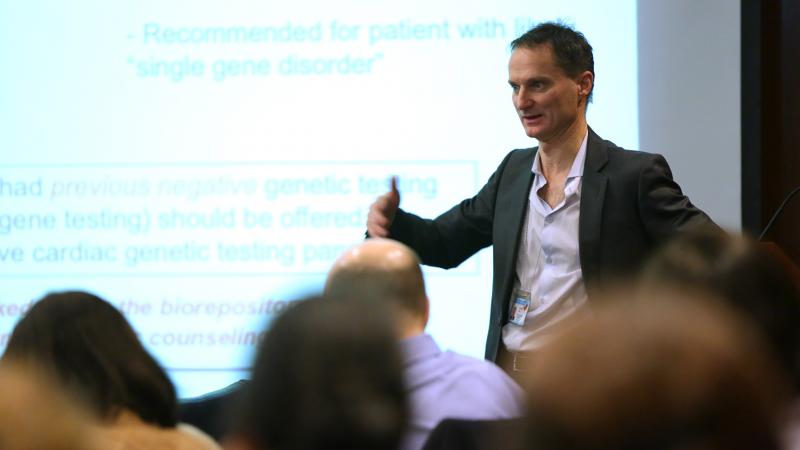 Wen Liu, PhD

Education and Training
MB, 1993, Shanghai Medical College of JiaoTong University, Shanghai, China
PhD, 2001, Tohoku University School of Medicine, Sendai, Japan

I received a PhD in medical science from Tohoku University School of Medicine in Japan and worked as a postdoctoral fellow and then associate research scientist in Mount Sinai Medical Center. My research mainly focused on biomechanical regulation of ion transport in distal nephron in health and disease (polycystic kidney disease), as well as pathogenesis of glomerulosclerosis in diabetic nephropathy group. I came to Columbia University Medical Center in 2012 and worked in the Pathology and Pulmonary group as a research worker, where I was in charge of processing samples for frozen section diagnosis and receptor analysis. I also participated in the study to identify the ligands bound to sRAGE in plasma in adults with clinical and subclinical ILD using co-IP to isolate sRAGE/ligand complexes followed by MS to distinguish the ligands. I have extensive experience in cell biology, protein chemistry assay, and molecular biology. Since joining in Dr. Reilly's group, I'm acquiring skills in iPS and SGBS culturing and CRISPR technology under the direct supervision of Dr. Hanrui Zhang and Dr. Xuan Zhang. Additionally, I am the lab manager for our group and oversee purchasing and other items.

Sarah Trignano, EdM

Clinical Research Coordinator

Education and Training:

EdM 2015, Applied Physiology, Teachers College Columbia University, New York NY
BA Anthropology and BFA Dance, 2002, University of Arizona, Tucson Arizona

Prior to joining the Reilly Lab, I conducted Cardiopulmonary Exercise Testing (CPETs) for CUIMC's Center for Behavioral Cardiovascular Health. This role followed a research internship focusing on sedentary behavior interventions. I previously served as program coordinator of Mount Sinai Heart's Women's Heart NY program for female cardiology patients. I am a MedCA Certified Phlebotomy Technician, ACSM Certified Exercise Physiologist, am ACLS-CPR certified, and a Fulbright Scholar (2008, Netherlands).

Huize Pan, PhD

Education and Training
BS, 2011, Anhui University, Hefei, China
PhD, 2016, Institute of Biophysics, Chinese Academy of Sciences, Beijing, China

I am interested in the mechanistic and translational study of GWAS loci related to cardio-metabolic disease by utilizing both human iPSC models and transgenic murine models. My PhD training focused on the mechanism study of human stem cell function regulation using gene editing and stem cell differentiation technologies. My postdoctoral training is using CRISPR/Cas9-mediated gene editing and iPSC-VSMC differentiation technology, as well as murine models to study the mechanism of cardiovascular disease-related genetic loci identified in GWAS. My current projects include: 1) Function and mechanism of some GWAS loci in atherogenesis; 2) Identifying transcriptional regulators of ADAMTS7 expression and potential genetic loci related to the human smooth muscle cell function regulation by utilizing CRISPR/Cas9 screening; 3) Defining the landscape of human monocyte subpopulations via single cell RNA-seq, and examining their relation to cardiovascular risk states, e.g., smoke, hyperlipidemia, Type 2 Diabetes by comparing the monocyte subpopulations' compositions between normal cohort and people with cardiovascular risk states.

Chenyi Xue, MS

Staff Associate, Bioinformatics

Education and Training
BS, 2010, Fudan University, Shanghai, China
MS, 2012, University of Michigan, Ann Arbor, MI

I am the bioinformatician of the lab, managing data storage, quality control and analysis. I work closely with research scientists in the lab on different projects. I have extensive experience on RNA-seq data analysis and long intergenic noncoding RNA (lincRNA) identification using deep sequencing data.

Jian Cui, MB, MSc

Education and Training
MB, 2003, Hebei Medical University
MSc, 2006, Beijing University of Chinese Medicine

I joined Dr. Reilly's group in 2012 as a research specialist. I have extensive experience in cell and tissue culture, molecular biology, immunology, mouse colony management, small rodent surgeries, and laboratory management.

Jianting Shi, MS

Education and Training
BE, 2010, Guangdong University of Technology, Guangzhou, China
MS, 2014, UMDNJ (now Rowan University), Stratford, NJ

My work focuses on exploring the functionality of myeloid lineage cells and their role in progression towards cardiometabolic diseases. More specifically, my current project is to study and understand the mechanism in efferocytosis of macrophages in order to promote their phagocytic function to clear the apoptotic cells and prevent the trigger of inflammation, which might serve as the defective factor to atherosclerosis.

Esther Cynn, BA, MS

Education and Training

Esther received her Bachelor of Arts at Cornell University, where she majored in biology and chemistry. After undergrad, Esther received her Master of Science at Columbia University, Institute of Human Nutrition, and completed her thesis work on the discovery of exosomal biomarkers for prostate cancer.

She is currently a predoctoral student at Columbia University in the Nutritional and Metabolic Biology program. Esther joined the Reilly lab in 2018, and her research focuses on understanding the role of human long intergenic non-coding RNAs (lincRNAs) in macrophage and atherosclerosis.

Marcella O'Reilly, BSc, PhD

Marcella trained in cardiometabolic research during her PhD at University College Dublin. Her project focused on investigating the effects of monounsaturated and polyunsaturated fatty acids in an obesogenic diet on reverse cholesterol transport, HDL functionality and adipose tissue function and inflammation. Her work led to two first author papers; High Density Lipoprotein Composition and not Efflux Capacity, Reflects Differential Modulation of Reverse Cholesterol Transport by Saturated and Monounsaturated Fat Diets Circulation. 2016;133:1838-1850 and Nutritionally Derived Metabolic Cues Typical of the Obese Microenvironment Increase Cholesterol Efflux Capacity of Adipose Tissue Macrophages Mol Nutr Food Res. 2019 Jan;63(2):e1800713. Her key research skills include HDL Proteomics (Mass Spectrometry), Fast protein liquid chromatography (FPLC), HDL function assays, Murine Handling and Breeding, Glucose Tolerance Tests (GTT) and Insulin Tolerance Tests (ITT), SPSS statistics, Perseus software and Ingenuity Pathway Analysis (IPA) software's and Teaching.

Marcella joined the Reilly lab in 2019 as a Postdoctoral Researcher. Her research focus is understanding the role of long intergenic non-coding RNAs (lincRNAs) in adipose and macrophage biology within obesity associated adipose tissue inflammation and cardiometabolic disease.

Alex Bashore, B.S., PhD

Postdoctoral Research Scientist

I studied lipoprotein metabolism during my PhD training at Wake Forest University. My project focused on investigating the role of hepatocyte ATP-binding cassette transporter A1 (ABCA1) in high density lipoprotein metabolism. The key research skills I acquired during my training were fast protein liquid chromatography (FPLC), high performance liquid chromatography (HPLC), incorporating radiolabels into lipoproteins for metabolic studies, in vitro and in vivo HDL functional assays, and murine handling and breeding.

I joined the Reilly lab in 2019 as a Postdoctoral Researcher. My research focuses on identifying common and rare monocyte subpopulations using single cell RNAseq, and how these subpopulations differ between healthy individuals and individuals with different cardiovascular disease risk states (e.g., cigarette smoking, diabetes, hyperlipidemia).

Chinyere Ihuegbu

Education and Training

BSc Biochemistry, 2014, University of Ibadan, Ibadan, Nigeria
MRes Biosciences, 2016, University College London, London, UK

Germán Martinez

Germán completed his Bachelor of Science in Biomolecular Science in 2019 at Clarkson University. After undergrad, Germán received his Master of Science in Biomedical Research Technologies in 2020 at Boston University.

"My work focuses on identifying various monocyte subpopulations using single cell RNAseq and how these subpopulations differ in healthy people and people with different cardiovascular diseases. In addition, investigating the role of smooth muscle cells plays in atherosclerosis."

Leila Ross, Ph.D.

Education and Training:

B.A., Biochemistry, University of California at Berkeley

Ph.D., Biological Chemistry and Molecular Pharmacology, Harvard University

Research Summary (<200 words):

Leila completed her doctoral studies in immunology and infectious disease at Harvard University in the lab of Dr. Dyann Wirth, focusing on biochemical and structural characterization of enzymes in the Plasmodium falciparum malaria parasite's pyrimidine biosynthetic pathway. She completed a postdoctoral fellowship in the lab of Dr. David Fidock at Columbia University, undertaking training in malaria parasite genetic manipulation and genomic analysis to identify drug resistance mechanisms. In Dr. Reilly's group, Leila switched out of the lab and became a program manager. Her role includes helping to support and shape research, grants, and manuscripts.

Eunyoung Kim, BS, MPS

Education and Training:

BS, 2018, Pennsylvania State University, State College, PA

MPS, 2019, Cornell University, Ithaca, NY

Research Summary:

I received Master of Professional Studies degree in Applied statistics and Bachelor of Science degree in Mathematics/System Analysis. I joined the Reilly lab in 2020 as a data analyst. I have broad experience in statistical computing, probability models and inference, big data management and analysis, and data mining and machine learning. I work with the scientists in the lab as well as distinct collaborators on diverse projects. My work with the Reilly lab especially focuses on scRNA-seq analysis in atherosclerosis and statistical analysis of observational clinical studies.