About Us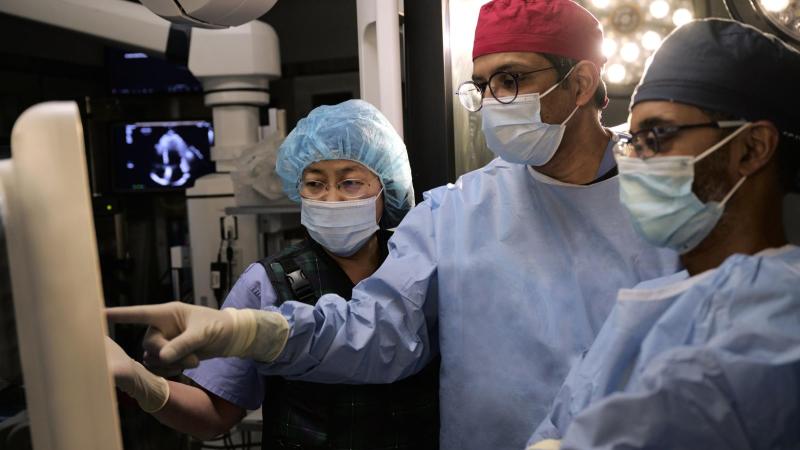 The Columbia Structural Heart and Valve Center originated as a collaborative effort between Columbia Interventional Cardiovascular Care, under the leadership of Ajay Kirtane, MD, MS, and the Department of Cardiothoracic Surgery, led by Craig R. Smith, MD. Currently, our program is led by Director Susheel K. Kodali, MD, an interventional cardiologist, in conjunction with Isaac George, MD, a cardiothoracic surgeon, and a team of highly skilled specialists dedicated to treating valve disease.
New York-Presbyterian and Columbia University Irving Medical Center receive a High-Performance ranking for TAVR from U.S. News & World Report.
Continuum of Care
Our physicians collaborate with an experienced team of physician assistants, clinical coordinators, and research coordinators, who compassionately attend to all patient needs. Our program's success has been built upon the commitment of the heart team across the continuum of patient care. Together, the team assesses each patient using state-of-the-art diagnostic tools and recommends appropriate treatment solutions, including interventional and surgical options and medical therapy, based on what is in the best interest of the patient. We are committed to comprehensive communication amongst our team and with the patient, family members, and referring physicians to ensure that everyone stays informed and involved in the patient's care.
Unmatched Success
The Columbia Structural Heart and Valve Center performs over 1,000 structural procedures per year, including many complex, high-risk procedures—and our outstanding success rate speaks volumes about our experience and expertise. According to a recent New York State Department of Health report, only the Columbia Structural Heart & Valve Center performed significantly better than the state average for transcatheter aortic valve replacements (TAVRs)—no other area hospital came close.
Pioneers in Valve Disease Treatment
The Columbia Structural Heart and Valve Center physicians are pioneers in investigating treatment solutions for valve disease. We served as the lead investigational site for the PARTNER, PARTNER II, and PARTNER 3 clinical trials under the leadership of national PIs Martin B. Leon, MD and Craig R. Smith, MD. Currently, the center is involved in various studies examining additional therapy options for the mitral valve and the tricuspid valve.
Additionally, under the leadership of Martin B. Leon, MD, who  previously served as the Director of Columbia Interventional Cardiovascular Care until July 2023, founded the Valve Academic Research Consortium (VARC), which helped to standardized endpoint definitions for TAVRs.
Finally, our center serves as one of just a few training sites in the U.S. on TAVRs. In fact, CUIMC has trained well over 50 percent of the heart teams in the U.S. who now perform TAVRs in their own centers.