Conditions and Treatments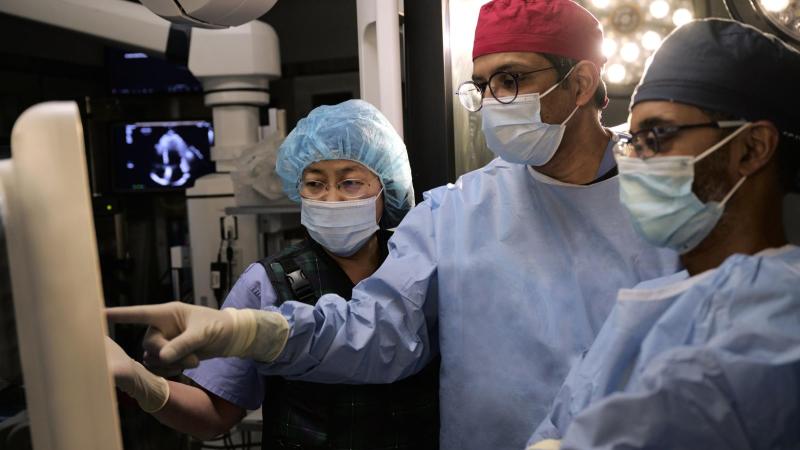 Make an Appointment
Our team is here to help you make an appointment with the specialists that you need.
Interventional cardiology is a non-surgical option which uses a small, flexible tube called a catheter to repair damaged or weakened vessels, narrowed arteries, or other affected parts of the heart structure. An interventional cardiologist is a cardiologist with one to two years of additional education and training in diagnosing and treating cardiovascular disease as well as congenital (present at birth) and structural heart conditions through catheter-based procedures, such as angioplasty and stenting.
Conditions We Treat
Common conditions treated by interventional cardiology include:
Diagnostic Testing Procedures
Intravascular Ultrasound
Myocardial Biopsy
Fractional Flow Reserve (FFR)
Coronary Flow Reserve (CFR)
Optimal Coherence Tomography (OCT)
Advanced Treatments
Advanced percutaneous (performed through the skin) procedures, include:
Complex coronary angioplasty and stenting
Coronary physiology testing
Intravascular Imaging (IVUS and OCT)
Myocardial biopsy
Inferior Vena Cava (IVC) Filter Implant and Extraction
Percutaneous ventricular assist device implantation
Primary Percutaneous Coronary Intervention (PCI) for myocardial infarction
Visceral (renal, mesenteric) artery angioplasty and stenting
Atherectomy of coronary and peripheral arteries
Percutaneous aortic, mitral and pulmonic valvuloplasty
Transcatheter aortic valve replacement (TAVR)
When patients have the need for more than one procedure, a hybrid specialist can perform both interventional procedures and traditional surgery in one room, called a hybrid suite. Hybrid suites also allow for multiple specialists to work together at the same time.
---
Make an Appointment
Our team is here to help you make an appointment with the specialists that you need.