Left Ventricular Assist Devices (LVADs)
Make an Appointment
Contact the Center for Advanced Cardiac Care to make an appointment with one of our heart failure specialists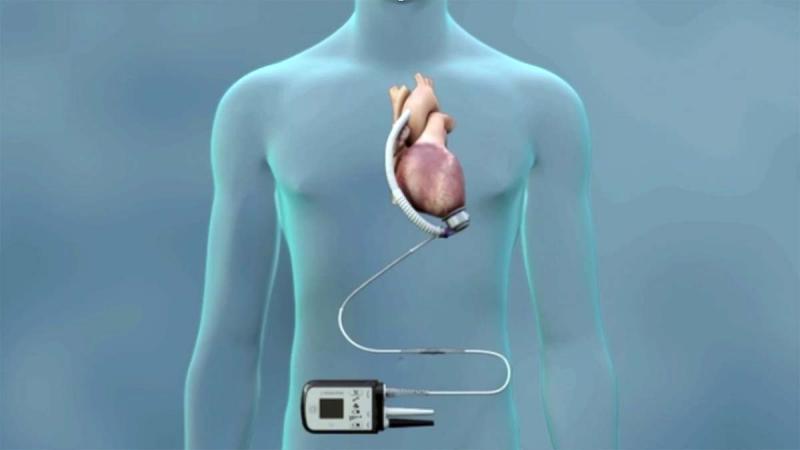 A ventricular assist device (VAD) is a surgically implanted pump that supports the heart of patients with advanced heart failure. VADs ensure that enough blood is pumped out of the heart to meet the body's needs. VADs can support the right and/or the left heart (ventricle), but most patients require support for their left ventricle. This is provided by implanting a left ventricular assist device (LVAD).
An LVAD is implanted next to the heart to help deliver blood into the main artery, the aorta. The aorta then distributes the blood to the rest of the body. In addition to the pump, the other components of the LVAD include a flexible cable (driveline) that connects the pump to a small computer (controller). This controller is attached to a belt and is powered by wearable batteries that last up to 17 hours.
Over the past three decades, LVAD therapy has undergone tremendous improvements, from bulky, noisy pumps with limited durability (1-2 years), to smaller, silent and more durable pumps that last multiple years. The majority of patients now survive 5 years, with some crossing the 10-year mark.
Who needs an LVAD? 
An LVAD can provide life-saving support for patients dealing with a variety of life-threatening scenarios, and also help improve the overall quality of life. The risks and benefits of having an LVAD should be carefully discussed with your doctor and the decision to proceed will be considered based on personal history and preferences.
Advanced heart failure patients may need an LVAD when medications and other treatments for heart failure become no longer effective. An LVAD can help manage or reduce a variety of heart failure symptoms, such as:
Shortness of breath
Fatigue
Limited exercise capacity
Leg swelling that gets worse over time
Kidney and/or liver malfunction
An LVAD may be necessary to address recurrent admissions to the hospital due to heart failure. Even a single admission to the hospital because of heart failure symptoms is associated with reduced longevity.
Waiting for a heart transplant may take anywhere from weeks, month, or even years. An LVAD implantation may be a good choice to address getting sicker while waiting for a new heart. If signs and symptoms indicate that a weakened heart is threatening the function of other vital organs, it may be time to discuss an LVAD with your doctor.
If a patient is not a candidate for heart transplantation due to age or other considerations, an LVAD implantation can prolong and improve their life. The risks and benefits of having an LVAD will be carefully discussed with your doctor and the decision to proceed is considered based on personal history and preferences.
An LVAD is sometimes used when a patient's heart is expected to recover its function, but cannot do so safely with medications alone. Some of these scenarios include heart failure resulting from complications of cardiac surgery, inflammatory conditions of the heart that are expected to get better, or, sometimes, heart failure after having a baby.
Our team places a strong emphasis on giving every patient an opportunity to recover their heart function. We have developed a state-of-the-art protocol that is designed to give our patients the best chance of recovery.
A minority of patients are able to recover their heart function to the point where the LVAD is no longer necessary and can be removed. When that occurs, testing is performed to ensure the LVAD can be removed safely.
The VAD Program at Columbia University Irving Medical Center
Established in 1990, the ventricular assist device (VAD) Program at Columbia University Irving Medical Center (CUIMC) is one of the first such programs in the nation. As a premier center, it leverages decades of clinical expertise and high scientific productivity, spearheading the field in innovation and technological progress.
We specialize in the management of complex cases, often treating high-risk patients that were deemed too sick for LVAD consideration at other institutions. We provide patients and their family with individualized education, both in-person and online, to ensure understanding and comfort with this therapy.
A Team of Experts
We are highly trained experts with experience in caring for people with LVADs. Our multidisciplinary team includes:
Surgeons
Cardiologists
Consultants
Nurse practitioners
Physician assistants
Case managers
Palliative care specialists
Dietitians
Pharmacists
Physical therapists
Educators