Clinics: CardioGenetics and Preventive Cardiology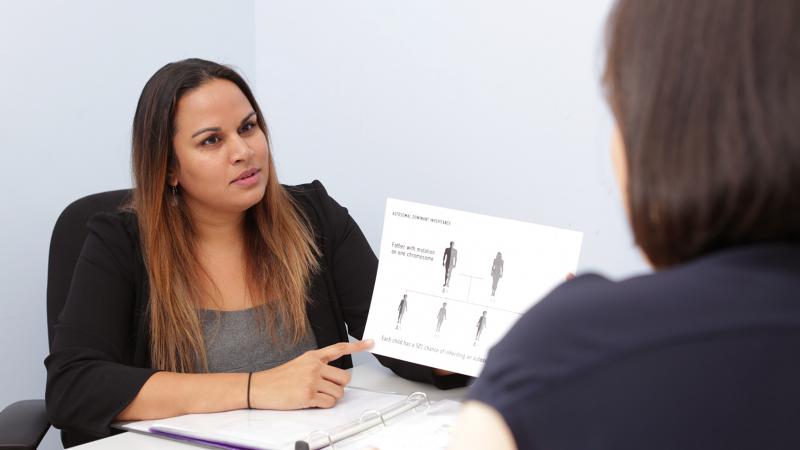 The Cardiometabolic Precision Medicine Program currently supports and collaborates with three clinical services:
The multidisciplinary CardioGenetics Clinic at ColumbiaDoctors is designed to provide state-of-the-art cardiac care and evaluation of patients with a diagnosed or suspected clinical genetic diagnosis. Our goal is to empower patients with genetic information that will help them to make informed decisions regarding their health and that of their families.
We provide comprehensive cardiovascular evaluations, clinical testing, genetic counseling, genetic testing, and individualized treatment plans for patients with, or, at risk for inherited cardiovascular conditions. The CardioGenetics Clinic brings together experts in adult cardiology and medical genetics to identify, screen, and manage patients and families affected by an inherited heart condition. Our team includes experienced clinical geneticists, cardiologists, and genetic counselors. When appropriate, research studies can be identified for which patients may qualify to understand their condition better or provide additional therapeutic optionsWe also collaborate with an experienced team of pediatric cardiologists and pediatric genetic counselors.
The Pediatric CardioGenetics Clinic services are provided by the Division of Clinical Genetics within Columbia Department of Pediatrics. The Division of Clinical Genetics provides clinical evaluation and risk assessment, genetic counseling, and genetic testing for a variety of genetic conditions. Ongoing care is also provided for patients with genetic conditions. Staff coordinates multidisciplinary care for patients and helps patients access resources related to their condition. When appropriate, research studies can be identified for patients who qualify, which can help them to understand their condition better or provide additional therapeutic options. For patients planning their families, reproductive options are provided for having healthy children. There are specialized programs in several areas.
The Columbia Program for Preventive Cardiology's clinic provides patient-centered care for individuals at increased risk for atherosclerotic cardiovascular disease (ASCVD). We are interested in patients with premature ASCVD or with familial lipid disorders in particular. Our goal is to help patients with lipid disorders reduce their cardiovascular risk and prevent ASCVD through a comprehensive approach with lifestyle changes, medical treatments, and genetic testing.
For more information on the Preventive Cardiology Clinic, please call 212-305-7939.